After our post the other day on
two sport star Clark the Canadian goalie
we received emails from the "
Waikiki Hockey
" faithful
(too soon to start calling you Waikikimaniacs?)
letting us know of two other potential hockey' 'slash' baseball players.
The good men over at
Fantasy Hockey Scouts
must have taken a break from their excellent fantasy coverage when they came across this
gem
. Hurricane forward Chad LaRose threw out the first pitch at the Durham Bulls game the other night and threw so high and wide he hit a musician behind the backstop: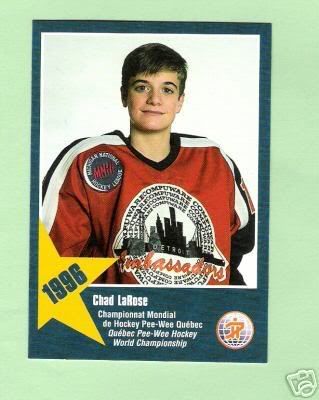 "I just threw it a little high and the catcher never tried to catch it," LaRose said. "Everyone's fine except for me. I'm traumatized by the whole situation."
We've never liked Chad. Our unfounded dislike of him has a lot to do with him 'trading' under the name
LaRose
. To us there will only be one LaRose ...
Jean 'Rosy' LaRose
. Maybe we're a bit harsh on Chad as he was pretty entertaining to listen to when he was
mic'd up
.
The other item that a few readers pointed out was Theoren Fleury's
three game stint
with the Calgary Vipers. The 40 year old Fleury's debut is definitely a
Waikiki
moment -- we were simply waiting for some video of Fleury's game to surface before we commented. Speaking of comments check out what Theo had to say about his new challenge:
"[it's] one of my all-time dreams come true" Fleury admitted it'd be a thrill "to be mentioned in the same breath as Bo Jackson as a two-sport professional athlete."
What he lacks in size he makes up for in ego ... same breath as Bo Jackson? ... seriously Theo?
Anyway, Fleury ended up going 1 for 3. Here he is collecting his one hit:

He didn't look too bad in that at bat. We're sure everybody is thinking what we are and wishing that after his hit he did this:
Let's just hope he's not using the money he made from his baseball days to fuel his other interests. We're only teasing ... by all accounts Fleury has cleaned up his act. He runs his own concrete coating company, where they have the following special deal:
"Are you a fan of Theo Fleury's? Theo will sign your floor, driveway or walkway – just ask before we seal it!"