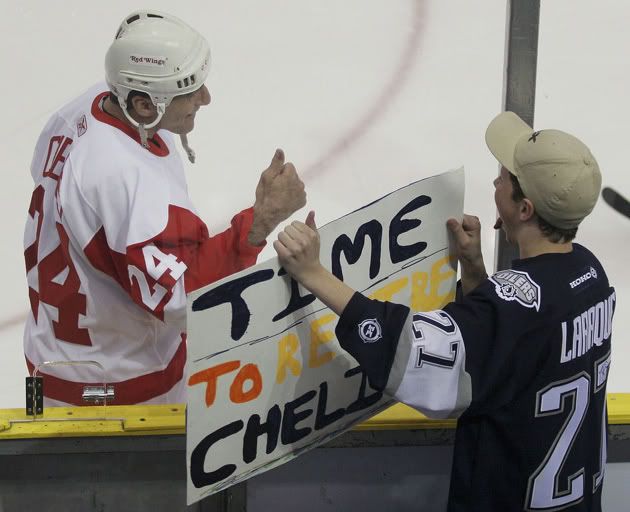 Sometimes you hear about a movie, book or tv show and you think it could be the greatest thing ever made. This is how we felt when we first heard about
'Puck Fiction'
.
Detroit Red Wing Chris Chelios, was paired up with Samuel L. Jackson in a short film that aired on the ESPY awards in 2002. For the short, Jackson revived one of the greatest movie characters of all time ... Jules Winnfield from
Pulp Fiction
:
What a classic scene.

We didn't see 'Puck Fiction' when it originally aired but we were giddy with anticipation ... thank god for the internet. The actual clip didn't quite live up to our expectations but it's pretty close:

Really makes you wish that ESPN was still broadcasting games.
Our high points are when Jules demonstrates the '
Englewood Jack
' and the last thirty seconds where Chelios thinks about catching up with Jules. It's almost "
Hall of Fame
" worthy but just falls a bit short, probably because a Jules without a '
motherfucker'
just isn't Jules. Too bad they couldn't get Quentin Tarantino involved as well.